On a rare sunny day in the Kehje Sewen forest in East Kalimantan, the monitoring team recently had the opportunity to follow one of the released orangutans at a close distance.
The last few months have been quite wet in the Kehje Sewen forest in East Kalimantan, which is used as a release site for rehabilitated orangutans from the Samboja Lestari centre. Orangutans generally move around very little when it rains.
Clear sunny days thus offer the monitoring teams better opportunities to observe the released orangutans out and about in the forest. That is why, when they finally woke up on one of the rarer sunny days, the monitoring team ventured into the forest earlier than when they usually go out for their daily patrols to take advantage of the beautiful weather.
The agile Justin as tour guide
The monitoring team soon noticed movement in the trees around them and discovered Justin. Justin was four years old when he was rescued from being illegally kept as a pet and brought to Samboja Lestari in 2013. After completing his rehabilitation with flying colours in 2017, Justin was released to Kehje Sewen.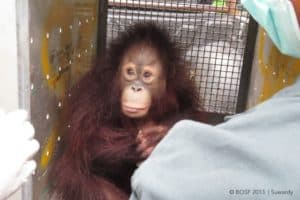 Without Justin even noticing, the monitoring team observed him from a distance for hours. He was very active, moving swiftly from tree to tree. The monitoring team was impressed with his agility, which forced them to pick up the pace in order to keep up with him through the forest.
Out of a sudden, Justin quickly climbed down a tree on to the forest floor to forage for a nutritious lunch consisting of plant shoots – a delicacy to orangutans. The lively Justin never even noticed that the monitoring team had joined him on his excursion, and after finishing his lunch, he moved out of sight. He took off so hastily that the monitoring team could not possibly follow him.
Despite losing sight of Justin, joining him on his rainforest excursion allowed the monitoring team to conclude that he was in good health and thriving in Kehje Sewen as a wild orangutan.
Cover-billede: Mendan – BOSF-RHOI