402 orangutans. That is the total number of orangutans Save the Orangutan's Indonesian partner BOS Foundation have released to free and natural surroundings come the end of this week. Meet the four orangutans who have embarked on their journey from the rehabilitation centre to the release site in Kehje Sewen today to return to their natural habitat.
Four orangutans from the Samboja Lestari rehabilitation centre are now on their way to the release site in the protected Kehje Sewen forest. By the end of this week, they return to their natural habitat.
This week's releases mark a milestone in the work for orangutans as it includes the release of orangutan no. 400. BOS Foundation's total number of released orangutans since 2012 thus reaches 402!
Mori
Mori arrived as a 3-year-old at Samboja Lestari in February 2012. She had been kept as an illegal pet in the village of Sangatta.
After completing forest school in 2017, she was moved to a pre-prelease island near Kehje Sewen to put her survival skills and independence to the test. Mori excelled on the pre-release island and she quickly began to display wild orangutan behaviour.
Today, the 10-year-old Mori is ready to return to her natural surroundings with her re-granted freedom in the Kehje Sewen forest after 7 years of rehabilitation.
Anna Friel
Anna Friel was rescued by a local resident of Balikpapan in East Kalimantan in May 2015 and was brought to Samboja Lestari. The 4-year-old orangutan struggled to adapt to her new surroundings at the centre and she was afraid of the other orangutans.
Despite a rough start, Anna Friel soon made friends in forest school and completed with flying colours. In 2017, it was her turn to prove herself on a pre-release island. She soon proved she had become a skilled forager and nest-builder with an eagerness to explore.
The 8-year-old Anna Friel has mastered the survival skills necessary for her return to the wild and is now ready for her new life in Kehje Sewen.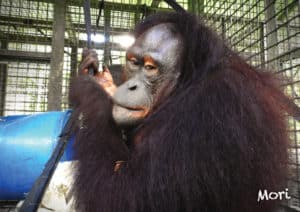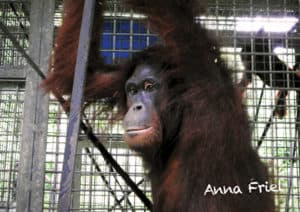 Elder
Elder was born at Samboja Lestari on the 1st of September 2011. Her mother Egi, who underwent rehabilitation at the centre, died a few weeks after giving birth due to health complications from tuberculosis. After six months of intense medical testing, Elder was declared healthy, and she began her rehabilitation.
After mastering the skills taught in forest school, Elder was moved to a pre-release island in 2018. Here, she became a dominating and independent orangutan.
The now 7-year-old Elder is ready to enjoy her re-granted freedom in Kehje Sewen after having displayed her wild orangutan behaviour.
Edgar
Edgar arrived at Samboja Lestari in 2013 at only 18 months old. He had been kept as an illegal pet for 10 months in the village of Sebulu in East Kalimantan. His owner claimed to have found Edgar orphaned and alone in a timber estate area.
After excelling in forest school, Edgar was moved to a pre-release island in 2018 where he proved to be an independent and dominating orangutan with boundless roaming skills.
After six years of rehabilitation, the 7-year-old Edgar is ready to put his acquired skills to use when he returns to life as a wild and free orangutan in Kehje Sewen this week.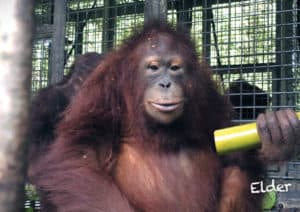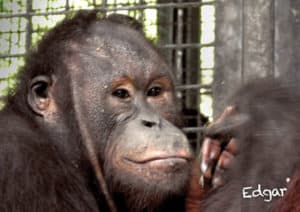 Watch the milestone release