Earlier this month, the Post-Release Monitoring (PRM) team made an important discovery: The released orangutang Signe had given birth to a baby!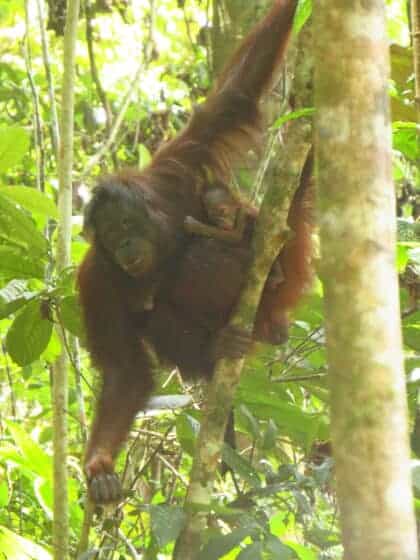 Earlier in November, the Post-Release Monitoring (PRM) team in the Kehje Sewen Forest was preparing for a day of patrolling and observing orangutans in the forest. They keep an eye on the rehabilitated orangutans that have been released into the wild.
On the way to the observation area of the day, the team stopped to check the vehicle they were traveling in, as it appeared to be having some trouble. This turned out to be a lucky stop. They spotted an orangutan not far from where they had stopped.
Support our work: Become an orangutan partner
The team was able to identify her as Signe, an orangutan released to the forest in 2016 with her son, Bungaran. Signe was busily moving in the canopy and foraging. After a while, she climbed down to the forest floor in search of more food sources. The team members inched closer and were suddenly taken by surprise. Signe was carrying a baby!
Signe's baby marks the 5th natural birth among released orangutans in the Kehje Sewen Forest. This year, female orangutan Nobri, who lives in the Bukit Batikap National Park, has also given birth to a baby.
When rehabilitated orangutans give birth in the wild it is a sign of a successful rehabilitation. They also become part of creating a new, wild generation in the forest!
Read more about Nobri and her baby here.