Last week, two orangutan releases were carried out two days apart. Seven rehabilitated orangutans from the Nyaru Menteng Rehabilitation Centre were reintroduced to the rainforest. A few days later, three more orangutans, this time from Samboja Lestari, were released. These are the first orangutan releases since the global pandemic hit Indonesia.
As many as 10 orangutans were released and able to start a new life in the wild last week.
Seven of them were from the Nyaru Menteng Rehabilitation Centre. These orangutans began the new chapter in their lives on Tuesday, as they were released in the Bukit Batikap Protection Forest in ​​Central Kalimantan. The other three orangutans, from the Samboja Lestari Rehabilitation Centre, were released two days later in the Kehje Sewen Forest in East Kalimantan.
Our partner BOS Foundation was responsible for the release in collaboration with Central and East Kalimantan Natural Resources Conservation Agencies (BKSDA). This time it was possible to utilise helicopter transport for the orangutan releases.
The option of using air transport significantly cut travel time from Nyaru Menteng to the first release site. Here the seven orangutans: Bali, Hugus, Noel, Nenuah, Strada, Disha and Deijo, left their cages succesfully. Immediately after the release, the helicopter was prepared for the second release so Britney, Freet and Juve could be transported to their new home in the wild. These orangutans seemed to quickly get accustomed to their new surroundings.
Support us: Become an Orangutan Partner
First release since the beginning of the pandemic
These are the first releases since the corona pandemic hit Indonesia. The transports of the orangutans from the centres were put on hold due to the orangutans' genetic similarities with humans that makes it very likely that the coronavirus, that causes the disease COVID-19, pose a threat to the orangutans.
Read: Efforts to prevent corona near rehabilitation centres continue after positive results
Meanwhile, our partner BOS Foundation has gained great knowledge about the new coronavirus and have adapted improved safety protocols. This has made them feel equipped to now continue the releases and thus ensure that orangutans can get the life that they deserve.
The use of a helicopter for these orangutan releases cut the need to cross local communities and thereby helped reduce the risk of spreading COVID-19.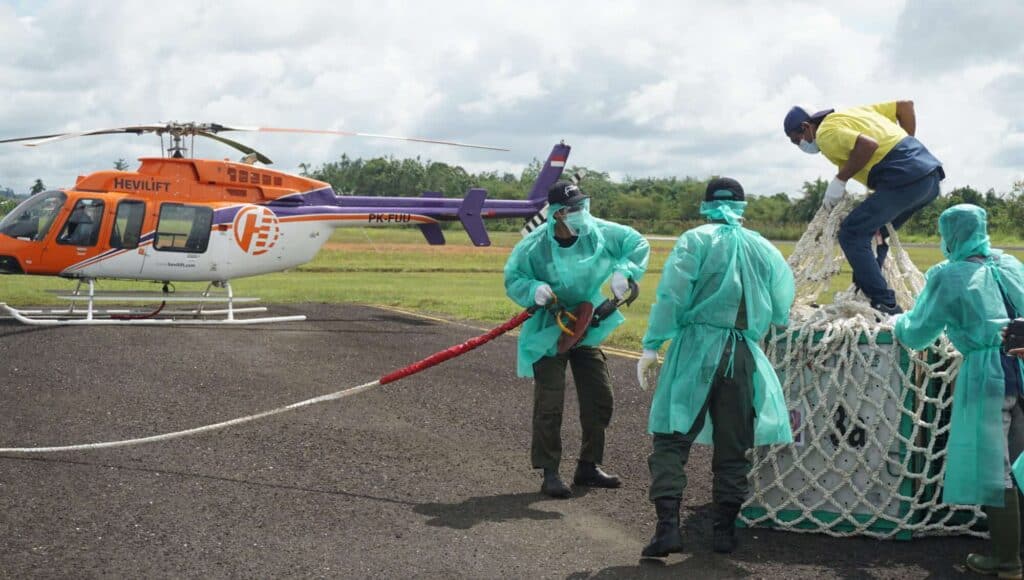 The list of safety protocols and procedures to for releases have only become longer due to COVID-19. Among other things, both orangutans and all staff involved in the releases are tested for the coronavirus. Only few staff members – such as veterinarians – get close to the orangutans and they all were full safety equipment.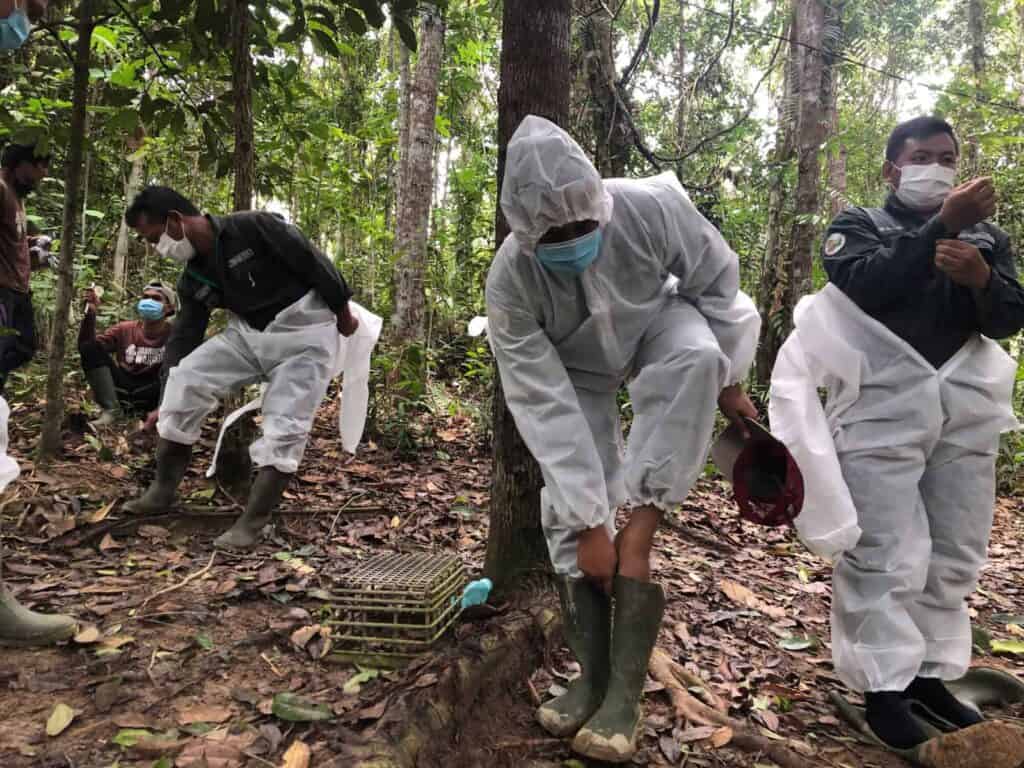 Rescued from captivity or palm oil plantations
The vast majority of released orangutans were once rescued from captivity or palm oil plantations before arriving at the rehabilitation centre.
18-year-old male orangutan Bali was rescued from a plantation owner and brought to Nyaru Menteng in 2003. Back then he was only four months old, weighed 2.8 kilograms and had lost his mother. Bali required intensive and immediate care from the Nyaru Menteng medical team – his leg was broken and on some parts of his body his skin was starting to peel away. But Bali recovered, made it through Forest School and is now ready to prove his ability as a true, wild orangutan.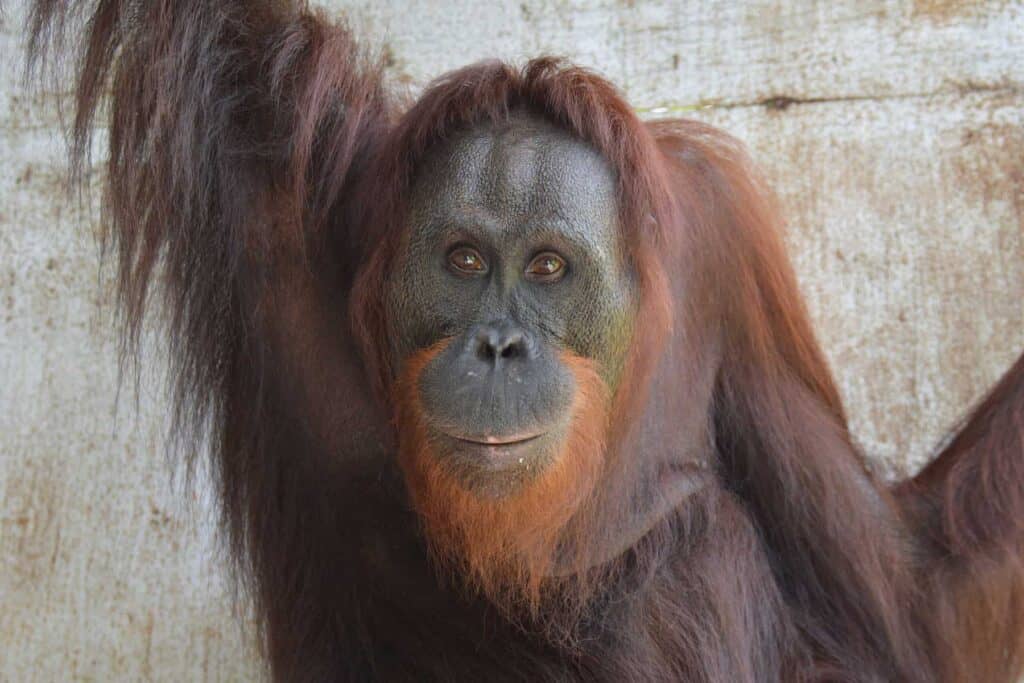 Among the released orangutans is also 19-year-old female orangutan Nenuah, who was repatriated from Thailand, along with 47 other orangutans, and arrived at Nyaru Menteng in 2006. Only 6 other individuals, in addition to Nenuah, from this group had made it all the way through rehabilitation and were released in a forest. The rest have unfortunately experienced difficulty in developing the natural skills and behaviours required to qualify for release, as a result of lengthy captivity during earlier years.
Read: Three orangutans moved to sanctuary island
There are also a few orangutans that have been rescued as adults only to be moved to a safer area. One example is mother-child pair Disha and Deijo. They are wild orangutans that were frequently spotted wandering around the Forest School Nursery area. Their occasional appearance would frighten the young orangutans in the group. Even more critically, their presence on the outskirts of local communities put them at high risk for conflict with humans. Therefore, they now have a new, much safer life in the protected rainforest area.
All orangutans will continuously be monitored by a Post-Release Monitoring team who ensures the wellbeing of the orangutans.