Since being released in the Kehje Sewen forest in August, Febri and the three other orangutans has had to adapt to an independent life in the wild. The post-release monitoring team from the Nles Mamse camp began observing the newly arrived orangutans immediately after the release, as they always do when the forest welcomes new, rehabilitated residents.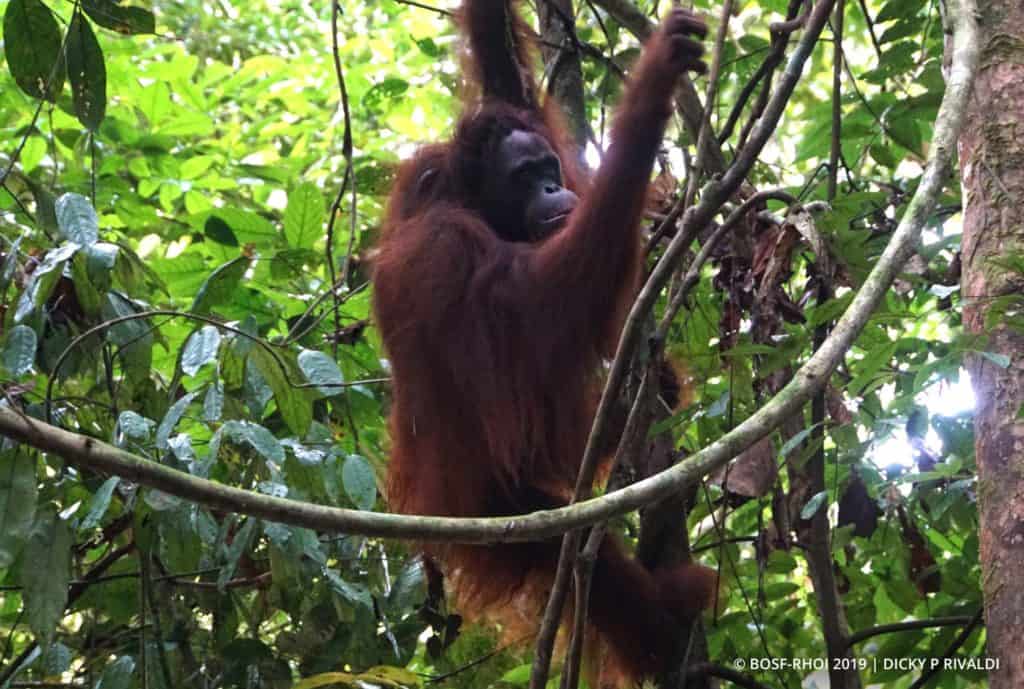 Read the update on Misri, who was released on the same day, here >>
Unlike Misri, who rushed out of the cage when the door was opened, Febri was more cautious. After the cage door opened, Febri climbed up the nearest tree and sat there to rest. Febri seemed thoughtful as she slowly continued in to the forest and she took regular breaks along the way. She did not eat much during the first day other than some Rambutan and other fruit, before it was time to build a nest for the night.
The next morning at 6 am the post-release monitoring team arrived at Febri's nest, where she was just about to get ready for the day. During this day as well, Febri stayed close to the release site. She explored the nearby area and enjoyed a large portion of Durian fruit. She used the nest she had built the night before as fruit storage and built a new nest for herself in the evening.
Over the next few days, Febri's self-confidence grew and she adventured further away from the release site in order to explore the rainforest. She even found a waterfall where she was seen drinking and foraging.
The post-release monitoring team was initially worried about Febri as she did not seem to adapt well to her new surroundings in the wild.  However, Febri has now slowly been making progress. She is healthy and has shown that she has the necessary survival skills to live independently in the wild. Febri just seems to need a bit more time than the other orangutans to adapt to her new home. One day at a time Febri.