Restoring degraded rainforest is crucial for the survival of the orangutan. With the new #plant_1_2_trees campaign, Save the Orangutan wants to replant as much as 1,000 hectares of degraded rainforest.
Deforestation is the biggest threat to the survival of the orangutan. In the last four decades, 80% of orangutan habitat has disappeared. But there is still hope for the destroyed rainforest areas – they can be replanted and eventually become new lush forest areas.
Save the Orangutan has now launched a new campaign to replant the rainforest. The goal is to replant 1,000 hectares of rainforest, with the support from individuals, foundations, and companies.
Read more and support the project on the campaign page
"We have set ourselves an ambitious goal because replanting the rainforest cannot be done quickly enough," explains Hanne Gürtler, Secretary General of Save the Orangutan.
"There are large areas where we can plant new trees. This means that there will be new forest areas in the future for the orangutans and other animals in Borneo. But there is also carbon stored in the soil, which has a positive impact on the climate."
Plants in the Mawas area
Mawas is a peatland forest area located in Kalimantan, the Indonesian part of Borneo. It is an area twice the size of London. The area is home to more than 2,500 wild orangutans – one of the world's largest populations. Meanwhile, peatlands store a large amounts of carbon – and play an important role in the battle against climate change.
But more than 30% of the forest in Mawas has been destroyed. Therefore, we work to replant trees in the area together with our local partner BOSF-Mawas and with the local communities.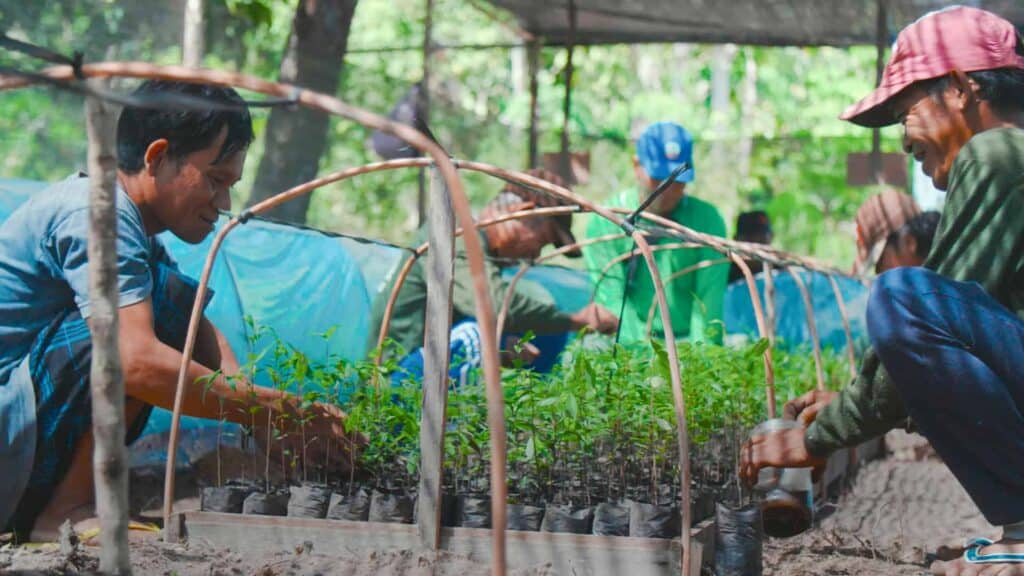 By replanting and monitoring these previously destroyed areas, new forest can start to grow and become a home for the orangutans in the future. As part of the project, the local communities block drainage canals to restore water levels in the peat swamps. This way, ecosystems can be restored and the large amounts of carbon in the peatlands remain stored in the soil and is not released into the atmosphere. These efforts also reduce the risk of forest fires. Locals monitor the area and protect it from fires and illegal activities.
As the area becomes more resistant to fires, it also helps to protect the existing rainforest areas close to the replanting site.
When you support this campaign, you are helping both the orangutans, the climate, and the local communities.
We hope you want to join us!